Giáo án Tiếng Anh Lớp 11 (Thí điểm) - Unit 7: Further Education - Lesson 1: Getting started - Năm học 2020-2021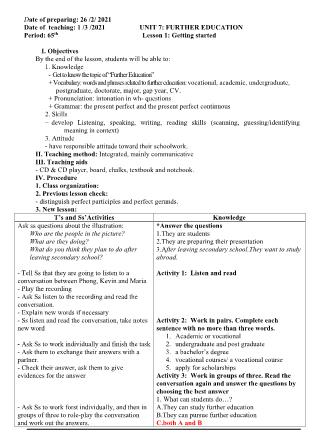 I. Objectives
By the end of the lesson, students will be able to:
1. Knowledge
- Get to know the topic of "Further Education"
+ Vocabulary: words and phrases related to further education:vocational, academic, undergraduate,
postgraduate, doctorate, major, gap year, CV.
+ Pronunciation: intonation in wh- questions
+ Grammar: the present perfect and the present perfect continuous
2. Skills
− develop Listening, speaking, writing, reading skills (scanning, guessing/identifying
meaning in context)
3. Attitude
- have responsible attitude toward their schoolwork.
II. Teaching method: Integrated, mainly communicative
III. Teaching aids
- CD & CD player, board, chalks, textbook and notebook.
IV. Procedure
1. Class organization:
2. Previous lesson check:
- distinguish perfect participles and perfect gerunds.
Bạn đang xem tài liệu "Giáo án Tiếng Anh Lớp 11 (Thí điểm) - Unit 7: Further Education - Lesson 1: Getting started - Năm học 2020-2021", để tải tài liệu gốc về máy bạn click vào nút DOWNLOAD ở trên
Date of preparing: 26 /2/ 2021 
Date of teaching: 1 /3 /2021 UNIT 7: FURTHER EDUCATION 
Period: 65th Lesson 1: Getting started 
 I. Objectives 
By the end of the lesson, students will be able to: 
1. Knowledge 
- Get to know the topic of "Further Education" 
+ Vocabulary: words and phrases related to further education: vocational, academic, undergraduate, 
postgraduate, doctorate, major, gap year, CV. 
+ Pronunciation: intonation in wh- questions 
+ Grammar: the present perfect and the present perfect continuous 
2. Skills 
− develop Listening, speaking, writing, reading skills (scanning, guessing/identifying 
meaning in context) 
3. Attitude 
- have responsible attitude toward their schoolwork. 
II. Teaching method: Integrated, mainly communicative 
III. Teaching aids 
- CD & CD player, board, chalks, textbook and notebook. 
IV. Procedure 
1. Class organization: 
2. Previous lesson check: 
- distinguish perfect participles and perfect gerunds. 
3. New lesson: 
T's and Ss'Activities Knowledge 
Ask ss questions about the illustration: 
Who are the people in the picture? 
What are they doing? 
What do you think they plan to do after 
leaving secondary school? 
- Tell Ss that they are going to listen to a 
conversation between Phong, Kevin and Maria 
- Play the recording 
- Ask Ss listen to the recording and read the 
conversation. 
- Explain new words if necessary 
- Ss listen and read the conversation, take notes 
new word 
- Ask Ss to work individually and finish the task 
- Ask them to exchange their answers with a 
partner. 
- Check their answer, ask them to give 
evidences for the answer 
- Ask Ss to work forst individually, and then in 
groups of three to role-play the conversation 
and work out the answers. 
*Answer the questions 
1.They are students 
2.They are preparing their presentation 
3.After leaving secondary school.They want to study 
abroad. 
Activity 1: Listen and read 
Activity 2: Work in pairs. Complete each 
sentence with no more than three words. 
1. Academic or vocational 
2. undergraduate and post graduate 
3. a bachelor's degree 
4. vocational courses/ a vocational course 
5. apply for scholarships 
Activity 3: Work in groups of three. Read the 
conversation again and answer the questions by 
choosing the best answer 
1. What can students do ? 
A.They can study further education 
B.They can pursue further education 
C.both A and B 
- Ask Ss to work in pairs: read and discuss the 
example first. Then give them a few minutes to 
think about their own plans and share them with 
their partners 
- elicit some answers from Ss in front of the 
class. Have the rest of the class ask further 
questions and discuss any points. 
2. In what way do academic courses ? 
A. They can help students develop analytical 
skills, critical thinking and knowledge for higher 
education at a university or college 
B.They aren't helped students develop analytical 
skills, critical thinking and knowledge for higher 
education at a university or college 
C.They are difficult to help students develop 
analytical skills, critical thinking and knowledge for 
higher education at a university or college 
3.Why do some students prefer not .? 
 A. Because they don't want to take some time 
before deciding on their career and major 
B. Because they want to take some time before 
deciding on their career and major 
C. Because they are difficult to take some time 
before deciding on their career and major 
4. What are som advantages of .? 
A.Taking a gap year can allow students to do 
voluntary work or internships, and travel. This 
practical experience will make their CVs look 
good 
B.Taking a gap year can avoid students to do 
voluntary work or internships, and travel. This 
practical experience will make their CVs look good 
C.Taking a gap year can encourage students to do 
voluntary work or internships, and travel. This 
practical experience will make their CVs look good 
Activity 4: Work in pairs. Discuss your plans 
after leaving secondary school 
- I'd like to work in a business environment, so I will 
choose business administration as my major. After 
graduating from secondary school, I will take some 
Business English courses and I will also work on my 
presentation skills. 
4. Consolidation: 
- Summarize the main points: 
Getting to know the topic, vocabulary about 
further education, and the present perfect and the 
present perfect continuous. 
5. Homework: 
- practice the tasks. 
- prepare for the next lesson 
Date of preparation: 2/3/2021 
Date of teaching: 5/3 2021 
Period 66t UNIT 7: FURTHER EDUCATION 
 Lesson 2: Language 
I. Aims and Objectives: 
1. Language focus 
- To provide learners some language items in Unit 7 
- For vocabulary, that is words and phrases related to further education. 
- For pronunciation, that is intonation in wh- questions 
- For grammar, that is the present perfect and the present perfect continuous 
2. Skills 
- To promote Ss to develop the skill of working in pairs and groups 
3. Attitudes 
- To encourage Ss to work harder 
- To provide Ss some motivation 
II. Preparations: 
 - Teacher: Handouts, textbook, pieces of papers, lesson plan and cassette. 
 - Students: Textbook 
II. Methods: - The whole lesson: Integrated, mainly communicative. 
IV. Procedure 
Teacher's / Students' activities Content 
A. WARM UP ( 5 ms) 
* Methods/techniques of teaching and learning: work with whole class 
- T asks Ss the questions about the 
education system in Viet Nam and in 
England. 
- Ss stand up to answer 
- Feedback and comment slightly 
the education system in Viet Nam and in 
England. 
B. VACABULARY (10 ms) 
ACTIVITY 1: : Complete the following simplified diagram of Viet Nam's education 
system 
* Methods/techniques of teaching and learning: work in pairs 
- Ask Ss to work individually first and then 
in pairs to do the task. 
- Ask Ss to do the tasks and compare the 
results with their partner 
Ss do as asked 
- T asks Ss to give answers and check 
again 
Activity 1: Complete the following simplified 
diagram of Viet Nam's education system with 
the appropriate words form the box. 
Keys: 1. Kindergarten 
2. Primary education 
3. Lower secondary education 
4. Upper secondary education 
5. College 
6. University 
ACTIVITY 2: Completing sentences 
* Methods/techniques of teaching and learning: work in pairs 
- Ask Ss to work individually first and then 
in pairs to do the task. 
- Ask Ss to do the tasks and compare the 
results with their partner 
Activity 2 
* Keys: 1. Academic 2. major 
 3. vocational 4. postgraduate 
 5. analytical 
C. PRONUNCIATION (10ms) 
ACTIVITY 1: Listening and repeating 
Methods/techniques of teaching and learning: work with whole class 
- T introduces the part and instructs Ss to 
read the demand to know what to read 
correctly 
- Ss look at the exercise and listen to 
teacher 
- T plays CD three times 
1. - Ss listen to CD and practice reading them 
2. – T asks Ss to pay attention to the 
sentences 
3. - Play the recording again for Ss to listen, 
pausing after each sentence. 
4. - Ask Ss to study the 
1. Intonation on wh- questions 
Activity 1: Listen and repeat. Pay attention to 
the intonation 
the intonation on wh- questions 
ACTIVITY 2: practicing saying the sentences with a partner. 
Methods/techniques of teaching and learning: pairwork 
- Ask Ss to read the word in rows paying 
attention to the intonation. 
- Ask Ss to do the task then compare the 
answer with their partner 
- Play the recording and let Ss listen and 
read chorally. 
- Ask Ss to listen to the sentences and 
practice reading them correctly 
- Invite some Ss to read these sentences in 
front of the class and correct mistakes, if 
there are any. 
Activity 2: Listen and repeat with correct 
intonation. The practice saying the sentences 
with a partner. 
D. GRAMMAR ( 15 ms) 
ACTIVITY 1: Finding the time expressions 
* Methods/techniques of teaching and learning: work in groups 
- T introduces the part, instructs Ss to talk 
in groups and gives some guide 
- Ask Ss to read the blue box and review 
the use and structure of the perfect 
participles. 
- Ask Ss to do the task then compare the 
answer with their partner 
- Ss listen to T and take notes 
- Ask Ss to compare their answer (working 
in group) 
- Check Ss' answers, 
2. Grammar: 
The present perfect and the present perfect 
continuous 
Activity 1: Read the conversation in 
GETTING STARTED again. Find the time 
expressions used with the verb forms below. 
* Keys: 1. for several days 
2. lately 
3. since grade 9 
4. before 
ACTIVITY 2: Putting the verb in each sentence in present perfect continuous 
* Methods/techniques of teaching and learning: work in groups 
-Let Ss finish the task and compare their 
answers with their partner's 
- Monitor the activity and help them if 
necessary. 
- Check the answers again as in class 
Activity 2: Put the verb in each sentence in 
present perfect continuous 
* Keys: 1. have been surfing 
2. has been living 
3. has been looking 
4. have been studying 
5. has been teaching 
ACTIVITY 3: Choosing the correct form of the verbs 
* Methods/techniques of teaching and learning: work in groups 
- Ask Ss to work individually first, then in 
groups and check their answers. 
Activity 3: Choose the correct form of the 
verbs in brackets to complete the sentences 
Keys: 1.have read 
 2. have been reading 
 3. Have you applied 
 4. have been waiting 
 5. has been giving 
 6. have never understood 
E. WRAP UP (2 ms) 
* Methods/techniques of consolidation: work with whole class 
- T sums up the period - Ask Ss: What have you learnt today? What can 
you do now? 
- Summarize the main points of the lesson. 
- Vocabulary related to further education 
- The present perfect and the present perfect 
continuous 
- Intonation 
F. HOMEASSIGNMENT (1 ms) 
- T gives homework and suggests Ss 
prepare for new lesson 
- Ss write down and listen to teacher 
* Homework: 
1. Prepare new part: reading 
2. Review the part: language 
Date of preparation: 3/3/2021 
Date of teaching: 6/3 /2021 
Period 67th 
Unit 7: FURTHER EDUCATION 
 Lesson 3: READING 
I/ Aims: 
 1. Educational aim: 
By the end of the lesson, Ss will be able to read for specific information about preparation for 
higher education and learn some vocabulary related to further education and higher education. 
2. Skills 
- To promote Ss to develop their reading skills 
- Skim the text to get the general idea 
- Scan the text to get some specific details about higher education opportunities 
3. Attitudes 
- To encourage Ss to work harder 
- To provide Ss some motivation 
II. Methods: - The whole lesson: Integrated, mainly communicative. 
III/ Preparation: -T: board, textbook, chalk, some pictures. 
 -Ss: revise old lesson at home. 
IV/ Anticipated problems: Ss may need help with the discussion task, so T should ready to help 
them. 
V/ Procedure: 
Teacher's / Students' activities Content 
A. WARM UP ( 3 ms) 
* Methods/techniques of teaching and learning: work with whole class 
T asks Ss about higher education in 
Vietnam 
Ss stand up to reply freely 
higher education in Vietnam 
B. BEFORE YOU READ (5 ms) 
ACTIVITY 1: 
* Methods/techniques of teaching and learning: work in pairs 
- T introduces the table & asks Ss to 
describe it 
- Interactions between S & S 
- Ss work in pairs and say about them 
- T checks their answers: 
Activity 1: Look at the table of the British state-
run education system. Can you make a similar 
table for the education system of Viet Nam. 
Suggested answers: 
 Vietnamese state-run education system 
School Age Examination 
Kindergarten 
Primary school 
Lower secondary 
school 
Lower secondary 
school 
3-5 
6-10 
11-14 
15-17 
GCSE 
C. WHILE YOU READ ( 27 ms) 
ACTIVITY 1: Listen to CD and read the passage ( 10 ms) 
* Methods/techniques of teaching and learning: work with whole class 
- Let Ss read the three heading a, b, c d first 
and make sure they understand all of them 
- Ask Ss to read through the text once 
without stopping at the words that they 
don't know the meaning 
- Ask them to work in pairs to decide on the 
best title for the text that gives the general 
idea of the whole text 
- Help them eliminate the choice that is 
only one aspect of the text 
Activity 2: Quickly read the text. Choose the 
best answer for it. 
* Key: b 
ACTIVITY 2: Doing activities 3, 4 (20 ms) 
* Methods/techniques of teaching and learning: work in pairs then with whole class 
- T instructs Ss to do the activity 
- Ss listen to T and look at the activity 
- T asks Ss do the activity 
by themselves for about 6 minutes 
- Ss do individually 
- T asks Ss to do the task then compare the 
answer with their partner 
T checks and corrects 
- T puts Ss in groups of 3, asks them to read 
the questions first to make sure they 
understand them by asking them to 
underline key words 
Activity 3: Match the words with their meanings 
Keys: 1. d 2. c 3. e 4. a 5. b 
Activity 4: Read the text again. Decide if the 
following statements are true, false or not given. 
- T lets Ss read the text again and locate the 
parts of the text where they can get the 
answers 
* Keys: 1. NG 2. F 3. F 4. F 5. T 
D. AFTER YOU READ ( 5 ms) 
ACTIVITY : Discuss with partner ( 5 ms) 
* Methods/techniques of teaching and learning: work in pairs 
- T asks students to work in pairs to discuss 
about the question 
- T asks them to brainstorm ideas about 
how to prepare for higher education in the 
UK. 
- Ss read the questions carefully and work 
in pairs to answer the questions. 
Activity 5: Work in pairs. Discuss how you can 
prepare for higher education in the UK. 
E. WRAP UP (4 ms) 
* Methods/techniques of consolidation: work with whole class 
- T calls on a good student to sum up the 
passage and the message of the passage to 
each student. 
- Ss stand up to say 
Sum up the passage 
F. HOMEASSIGNMENT (1 ms) 
- T gives homework and suggests Ss 
prepare for new lesson 
- Ss write down and listen to teacher 
* Homework: 
1. Prepare new part: Speaking 
2. Review the part: Reading 

Tài liệu đính kèm:
giao_an_tieng_anh_lop_10_thi_diem_unit_7_further_education_l.pdf