Giáo án Tiếng Anh Lớp 10 - Unit 13: Films and cinema - Lesson: Reading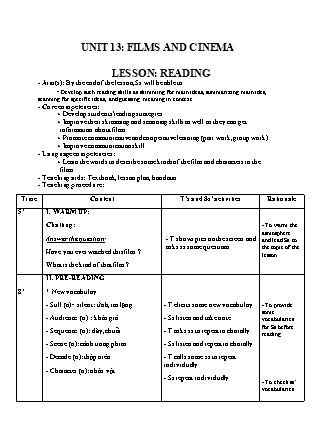 - Aim(s): By the end of the lesson, Ss will be able to
 - Develop such reading skills as skimming for main ideas, summarizing main ides, scanning for specific ideas, and guessing meaning in context
- Core competencies:
+ Develop students' reading strategies
+ Improve their skimming and scanning skills as well as they can get information about films.
+ Promote communicative and cooperative learning (pair work, group work).
 + Improve communication skill
- Language competencies:
+ Learn the words to describe some kinds of the film and characters in the films.
- Teaching aids: Textbook, lesson plan, handouts.
- Teaching procedure:
Bạn đang xem tài liệu "Giáo án Tiếng Anh Lớp 10 - Unit 13: Films and cinema - Lesson: Reading", để tải tài liệu gốc về máy bạn click vào nút DOWNLOAD ở trên
UNIT 13: FILMS AND CINEMA
	LESSON: READING
- Aim(s): By the end of the lesson, Ss will be able to
	- Develop such reading skills as skimming for main ideas, summarizing main ides, scanning for specific ideas, and guessing meaning in context
- Core competencies:
+ Develop students' reading strategies
+ Improve their skimming and scanning skills as well as they can get information about films.
+ Promote communicative and cooperative learning (pair work, group work).
	+ Improve communication skill
- Language competencies:
+ Learn the words to describe some kinds of the film and characters in the films.
- Teaching aids: Textbook, lesson plan, handouts.
- Teaching procedure:
Time
Content
T's and Ss' activities
Rationale
5'
I. WARM UP:
Chatting:
Answer the question: 
Have you ever watched this film ?
 What is the kind of that film ?
- T shows pics on the screen and asks ss some questions
- To warm the asmosphere and lead Ss to the topic of the lesson.
8'
II. PRE-READING
* New vocabulary
- Still (a)= silent : tĩnh, im lặng
- Audience (n) : khán giả.
- Sequence (n): dãy, chuỗi
- Scene (n): cảnh trong phim
- Decade (n): thập niên
- Character (n): nhân vật
- T elicits some new vocabulary
- Ss listen and take note
- T asks ss to repeat in chorally
- Ss listen and repeat in chorally
- T calls some ss to repeat individually
- Ss repeat individually
- To provide some vocabularies for Ss before reading
- To check ss' vocabularies
22'
III. WHILE-READING:
Guiding question:
When did the history of the film begin?
Set the scene: 
Teacher: "You are going to read the passage about the history of the film and find the answers for this question."
ãTask 1: Find suitable words to match with definitions on the right column (page 133)
Answer:
Cinema
Sequence
Decade
Rapidly
Scene
Character 
Answer the guiding question:
 - In the early 19th century (line 1)
Task 2: Answer these questions: (page 133-134)
When did the history of cinema begin?
What did scientists discover at the time?
Did films in the early days have sound?
When were audiences able to see long films?
When was sound introduced?
What form of films appeared as the old silent films were being replaced by spoken ones?
Expected answers
The history of cinema began in the early 19th century
At that time scientists discovered that when a sequence of still pictures was set in motion, they could give the feeling of movement
No, they didn't
Audiences were able to see long films in the early 1910s
The sound was introduced at the end of the 1920s
As the old silent films were being replaced by spoken ones, the musical cinema appeared
ã Task 3: Decide which of the options below is the best title for the passage:
A.The story of the film maker
B. A brief story of cinema
C. The history of the film industry .
Answer : B
- T makes question and asks Ss to guess the answer.
- T asks ss to read the passage in 3 minutes
- T asks ss to do task 1
- Ss read the passage and do task 1
- T calls ss go to the board and write their answers
- T checks and corrects mistake
- T asks ss to answer the guiding questions
- Ss answer 
- T runs through the questions and asks Ss to work in pairs again to answer these questions.
- Ss work in pairs and answer the questions.
- T goes around and help if necessary.
- T calls Ss to write the answers on the board.
- Ss write the answers on the board.
- T checks and gives the correct answers.
- T asks Ss to work individually and find the best title for the passage.
- Ss run through the passage and choose the best title.
- T asks Ss to read aloud the title.
- Ss read the title.
- T gives feedback and the correct answer.
- To give ss a target for reading
- To help ss think about the passage
- To help ss improve their reading for specific information
- To help ss find the specific information in the passage
- To help ss find the specific information in the passage
8'
IV. POST –READING
ã Fill in each blank with a suitable word to complete the following passage
1. Who is the storyteller ?
2. How many members in the storyteller's family? What're their name?
3. Where do they live ?
4. What is the nick name of "Binh Loi" ?
5. Does any one like Mrs "Hai Giau"
6. Who is the boy running in the video ?
7. What is the boy holding ?
8. What is "Tu Phu" doing ?
Answer keys:
1. The storyteller is Ba Sang
2. There are four members. Their name are Giau, Sang, Phu, Quy
3. They live in the alley way
4. Lord of estate agents
5. No one like her
6. The boy running in the video is "Tun"
7. The boy is holding a ball
8. He is cooking meat
- T delivers the handout and gives ss 1m to read the questions
- T shows a short video on the screen
- T asks ss to watch the video and answer the questions
- T calls ss stand up to answer the questions
- Ss follow T's instruction
- To improve ss reading skill
2'
V. HOMEWORK:
- Students prepare carefully for the next lesson.
- Students learn vocabularies
- T asks ss to learn new vocabularies and prepare new lesson.
- To review the lesson

Tài liệu đính kèm:
giao_an_tieng_anh_lop_10_unit_13_films_and_cinema_lesson_rea.docx