Đề kiểm tra giữa kì I môn Anh – lớp 10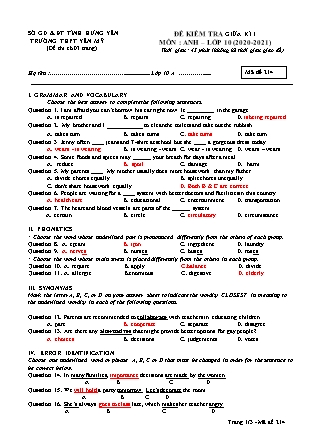 I. GRAMMAR AND VOCABULARY
Choose the best answer to complete the following sentences.
Question 1. I am afraid you can't borrow his car right now. It _________ in the garage.
A. is repaired B. repairs C. repairing D.is being repaired
Question 2. My brother and I to clean the toilets and take out the rubbish.
 A. takes turn B. takes turns C. take turns D. take turn
Question 3. Jenny often ____ jeans and T-shirt at school but she ____ a gorgeous dress today.
 A. wears - is wearing B. is wearing - wears C. wear - is wearing D. wears – wears
Question 4. Some foods and spices may ______ your breath for days after a meal.
 A. reduce B. spoil C. damage D. harm
Question 5. My parents ____. My mother usually does more housework than my father.
A. divide chores equally B. split chores unequally
C. don't share housework equally D. Both B & C are correct.
Question 6. People are waiting for a ____ system with better doctors and facilities in this country.
A. health care B. educational C. entertainment D. transportation
Question 7. The heart and blood vessels are parts of the ______ system.
 A. certain B. circle C. circulatory D. circumstance
Bạn đang xem tài liệu "Đề kiểm tra giữa kì I môn Anh – lớp 10", để tải tài liệu gốc về máy bạn click vào nút DOWNLOAD ở trên
SỞ GD & ĐT TỈNH HƯNG YÊN
 TRƯỜNG THPT YÊN MỸ 
 (Đề thi có 03 trang)
ĐỀ KIỂM TRA GIỮA KÌ I 
MÔN : ANH – LỚP 10 (2020-2021)
 Thời gian : 45 phút (không kể thời gian giao đề)
Mã đề 214
Họ tên :............................................................... Lớp 10 A ....................
I. GRAMMAR AND VOCABULARY 
Choose the best answer to complete the following sentences.
Question 1. I am afraid you can't borrow his car right now. It _________ in the garage.
A. is repaired 	B. repairs 	C. repairing 	D.is being repaired
Question 2. My brother and I 	 to clean the toilets and take out the rubbish.
	A. takes turn	B. takes turns 	C. take turns	D. take turn
Question 3. Jenny often ____ jeans and T-shirt at school but she ____ a gorgeous dress today.
	A. wears - is wearing	B. is wearing - wears	C. wear - is wearing	D. wears – wears
Question 4. Some foods and spices may ______ your breath for days after a meal.
	A. reduce	B. spoil	C. damage	D. harm
Question 5. My parents ____. My mother usually does more housework than my father. 
A. divide chores equally 	B. split chores unequally 
C. don't share housework equally	D. Both B & C are correct. 
Question 6. People are waiting for a ____ system with better doctors and facilities in this country.
A. health care 	B. educational 	C. entertainment 	D. transportation 
Question 7. The heart and blood vessels are parts of the ______ system.
 A. certain 	B. circle 	C. circulatory 	D. circumstance 
II. PHONETICS 
* Choose the word whose underlined part is pronounced differently from the others of each group. 
Question 8. A. cream	B. iron	C. ingredient	D. laundry
Question 9. A. nerves 	B. nurses	C. buses 	D. roses
* Choose the word whose main stress is placed differently from the others in each group.
Question 10. A. require
Question 11. A. allergic
 B. apply
 B.enormous 
 C.balance
 C. digestive
D. divide
D. elderly
III. SYNONYMS
Mark the letter A, B, C, or D on your answer sheet to indicate the word(s) CLOSEST in meaning to the underlined word(s) in each of the following questions.
Question 12. Parents are recommended to collaborate with teachers in educating children.
A. part	B. cooperate	C. separate	D. disagree
Question 13. Are there any alternatives that might provide better options for gay people?
A. choices	B. decisions	C. judgements	D. votes
IV. ERROR IDENTIFICATION
Choose one underlined word or phrase A, B, C or D that must be changed in order for the sentence to be correct below. 
Question 14. In many families, importance decisions are made by the women. 
	A	 B	 C	 D
Question 15. We will hold a party tomorrow. Let's decorate the room.
 A	 B C D
Question 16. She's always goes to class late, which makes her teacher angry. 
 A B C D
V. CLOZE READING
Choose the word or phrase among A, B, C or D that best fits the blank space in the following passage.
It is a common belief in Britain that nowadays men do more housework than they did in ____(17) _____ generations. But is this really so? A recent survey has made some interesting discoveries. When men help out, they enjoy cooking and shopping but most are unwilling to do the washing. A quarter of men think that women are better suitable for ____(18)	 after the home than men and 19% admit to making no ____(19)____ to housework.
The average man says that he does a third of the housework, _____(20)____ the average woman says she does three-quarters of it, so someone isn't telling the truth! It was impossible to find any men who shared housework _____(21)	_____ with their partners. Perhaps it isn't so surprising that there are some politicians who want a new law forcing men to do their share.
Question 17. A. old B. last	 C. first	D. previous
Question 18. A. taking	 B. seeing	 C. looking 	D. watching
Question 19. A. contribution B. part	 C. help	D. share	
Question 20. A. so	 B. because	 C. while	D. therefore
Question 21. A. equal	 B. equally	 C. same	D. the same
VI. ANTONYMS
Choose the letter A, B, C or D to indicate the word or phrase that is OPPOSITE in meaning to the underlined part in each of the following questions.
Question 22. From my point of view, parental divorce can cause lasting negative consequences for children.
A. beginning of a marriage	B. the situation of not marrying
C. single person	D. ending of a marriage
Question 23. In my view, husbands should contribute to the household duties in order to reduce burden on their wives.
A. minimise	 B. lower	C. decrease	D. increase
VII. COMMUNICATION
Choose the option A, B, C or D to indicate the most suitable response to complete each of the following exchanges. 
Question 24. Ann: "I've called many times but the plumber hasn't come yet." – Hoa: " _______"
A. Wait a minute, please.	B. We do apologise for this matter. We'll fix it soon.
C. He's maybe busy now.	D. The problem has been fixed already.
Question 25. Ann: "Have a good day, Peter!" –Peter: "_________"
A. Thanks. The same to you.	B. It's really a good day.
C. The weather is fine.	D. Just a little bit cold.
VIII. READING COMPREHENSON
Read the passage, and choose the correct answer A, B, C or D for each question.
Except for a few unfortunate individuals, no law in this world can go against the fact that for most of us our family is an essential part of our lives. The moment you enter this cruel world, where each man is for himself, there are some near and dear ones out there who will do anything to ensure your happiness.
We are nothing more than a vulnerable and fragile object, without someone taking care of us on our arrival in this world. Despite all the odds, your family will take care of your well-being, and try their best to provide you the greatest comforts in the world. No one out there, except your family must forgive the endless number of mistakes you may make in your life. Apart from teaching you forgive and forget lessons, they-are always there for you, when you need them the most.
Family is the only place where children study a lot after school. In school, teachers teach children about the subjects which will help them to find a good job in future. But at home, parents teach children about good habits. They are not only the elements which help the children to shape their personalities but they also prepare them a sustainable and bright future.
A good family makes a greater society. Father, mother, children have to work in order to build a strong family. If any one of them fail, the whole family may collapse. The good name of the whole family can be ruined by a single member of the family. In order to avoid that unhappy scenario, every family member has to work hard and try their best. As a result, they will set good examples lor the whole society. Families impacts very much on society and societies create countries.
Question 26. Which of the following is the best title for the passage?
A. Educational role ot family	B. The importance of family
C. family and society	D. The birth of fragile object
Question 27. According to the passage, which of the following is NOT true?
A. Family is a vital part of your life.
B. Not everyone has a family.
C. We will effortlessly be damaged without our family.
D. Some laws in the world may oppose the functions ot family.
Question 28. In the writer's opinion,_________
A. it is not the function of the family to make sure we are happy
B. your family will be with you regardless of difficulties
C. family creates some easily-spoilt creatures
D. people can be easily forgiven by people around
Question 29. To children, family plays a role in________
A. teaching them academic subjects	B. developing their personal traits
C. helping them to find a good job	D. encouraging them to study a lot at school
Question 30. The word "They" in the passage refers to_________
A. children	B. teachers	C. good habits	D. parents
IX. WORD FORMATION
Give the correct form of the words in CAPITAL to complete the sentences.
Question 31. Acupunture is one of the oldest _______________treatments in the world ( MEDICINE ) MEDICAL
Question 32. It is good for them as individuals and good for all the ______within the family. ( RELATE) RELATIONSHIPS
X. WRITING
A. Rewrite the sentences by using the passive voice.
Question 33. Farmers usually harvest wheat in June. 
--> ___________________________________________________________
Question 34. Jenny doesn't cook a new recipe almost every week. 
--> ___________________________________________________________
B. Put the verb in the correct form by using "The present simple, The present continuous, Will or Be going to".
Question 35. Her parents normally ( travel ) _TRAVEL__________ by plane but this holiday they ( travel ) ______ARE TRAVELLING_______by train.
Question 36. Did you bring my books? - Sorry, I forgot. I (bring) _WILL BRING______________them tomorrow. 
------ THE END ------

Tài liệu đính kèm:
de_kiem_tra_giua_ki_i_mon_anh_lop_10.doc