3 Đề kiểm tra 1 tiết môn Tiếng Anh 10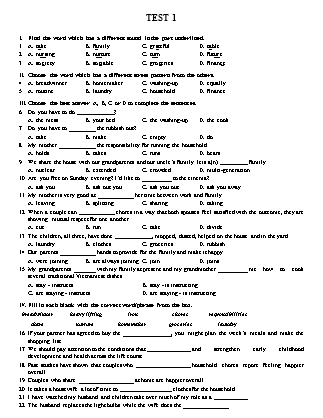 TEST 1
I. Find the word which has a different sound in the part underlined.
1. A. take B. family C. grateful D. table
2. A. nursing B. nurture C. turn D. future
3. A. society B. sociable C. groceries D. finance
II. Choose the word which has a different stress pattern from the others.
4. A. breadwinner B. homemaker C. washing-up D. equally
5. A. routine B. laundry C. household D. finance
III. Choose the best answer A, B, C or D to complete the sentences.
6. Do you have to do ?
 A. the mess B. your bed C. the washing-up D. the cook
7. Do you have to the rubbish out?.
 A. take B. make C. empty D. do
8. My mother the responsibility for running the household.
 A. holds B. takes C. runs D. bears
9. We share the house with our grandparents and our uncle's family. It is a(n) family
 A. nuclear B. extended C. crowded D. multi-generation
10. Are you free on Sunday evening? I'd like to to the cinema?
 A. ask you B. ask out you C. ask you out D. ask you away
11. My mother is very good at her time between work and family.
 A. leaving B. splitting C. sharing D. taking
12. When a couple can chores in a way that both spouses feel satisfied with the outcome, they are showing mutual respect for one another.
 A. cut B. run C. take D. divide
13. The children, all three, have done , mopped, dusted, helped on the house and in the yard.
 A. laundry B. clothes C. groceries D. rubbish
14. Our parents hands to provide for the family and make it happy.
 A. were joining B. are always joining C. join D. joins
15. My grandparents with my family at present and my grandmother me how to cook several traditional Vietnamese dishes.
 A. stay - instructs B. stay - is instructing
 C. are staying - instructs D. are staying - is instructing
Bạn đang xem tài liệu "3 Đề kiểm tra 1 tiết môn Tiếng Anh 10", để tải tài liệu gốc về máy bạn click vào nút DOWNLOAD ở trên
TEST 1 
I.	Find the word which has a different sound in the part underlined.
1.	A. take	B. family	C. grateful	D. table
2.	A. nursing	B. nurture	C. turn	D. future
3.	A. society	B. sociable	C. groceries	D. finance
II.	Choose the word which has a different stress pattern from the others.
4.	A. breadwinner	B. homemaker	C. washing-up	D. equally
5.	A. routine	B. laundry	C. household	D. finance
III.	Choose the best answer A, B, C or D to complete the sentences.
6.	Do you have to do 	?
	A. the mess	B. your bed	C. the washing-up	D. the cook
7.	Do you have to 	 the rubbish out?.
	A. take	B. make	C. empty	D. do
8.	My mother 	 the responsibility for running the household.
	A. holds	B. takes	C. runs	D. bears
9.	We share the house with our grandparents and our uncle's family. It is a(n) 	 family
	A. nuclear	B. extended	C. crowded	D. multi-generation
10.	Are you free on Sunday evening? I'd like to 	 to the cinema?
	A. ask you	B. ask out you	C. ask you out	D. ask you away
11.	My mother is very good at 	 her time between work and family.
	A. leaving	B. splitting	C. sharing	D. taking
12.	When a couple can 	 chores in a way that both spouses feel satisfied with the outcome, they are showing mutual respect for one another. 
	A. cut	B. run	C. take	D. divide
13.	The children, all three, have done 	, mopped, dusted, helped on the house and in the yard.
	A. laundry	B. clothes	C. groceries	D. rubbish
14.	Our parents 	 hands to provide for the family and make it happy.
	A. were joining	B. are always joining	C. join	D. joins
15.	My grandparents 	 with my family at present and my grandmother 	 me how to cook several traditional Vietnamese dishes.
	A. stay - instructs	B. stay - is instructing	
	C. are staying - instructs	D. are staying - is instructing
IV.	Fill in each blank with the correct word/phrase from the box.
	breadwinner	heavy lifting	iron	chores	responsibilities
	share	nurture	homemaker	groceries	laundry
16.	If your partner has agreed to buy the 	, you might plan the week's meals and make the shopping list.
17.	We should pay attention to the conditions that 	 and strengthen early childhood development and health across the life course.
18.	Past studies have shown that couples who 	 household chores report feeling happier overall.
19.	Couples who share 	 at home are happier overall.
20.	It takes a housewife a lot of time to 	 clothes for the household.
21.	I have watched my husband and children take over much of my role as a 	
22.	The husband replaces the light bulbs while the wife does the 	.
23.	Nowadays in nuclear families, homemaker and 	 roles have evolved into something that makes it impossible to define exactly.
24.	Many couples find that they look at the division of 	 differently.
25.	Men and boys do most of the 	 in the family.
V.	Choose the word or phrase among A, B, C or D that best tits the blank space in the following passage.
Working Mothers
	In the United States today, more than half of mothers with young children work, compared to about one third (26)	 1970s. Women have been moving into the workforce not only for career (27)	 but also for the income.
In many families today, mothers continue to work because they have careers that they have spent years (28)	. Some women (29)	 to work soon after (30)	 birth because they know that most employers are not sympathetic to working mothers who wish to take time off to be with their young children.
	Some people still think that a "good mother" is one who (31)	 work to stay home with her children. However, no scientific evidence says children are harmed when their mothers work. A child who is emotionally well adjusted, well loved, and well cared for will thrive regardless of (32)	 the mother works outside the home.
	In most families with working mothers, each person (33)	 a more active role in the household. The children tend to (34)	 one another and help in other ways. The father as a (35)	 is more likely to help with household chores and child rearing. These positive outcomes are most likely when the working mother feels valued and supported by family, friends, and coworkers.
26.	A. in	B. in the	C. at	D. at the
27.	A. enjoy	B. satisfy	C. satisfaction	D. pleasant
28.	A. develop	B. to develop	C. developing	D. developed
29.	A. return	B. turn	C. happen again	D. exchange
30.	A. producing	B. making	C. taking	D. giving
31.	A. gives up	B. stop	C. end	D. puts up
32.	A. where	B. when	C. how	D. whether
33.	A. plays	B. does	C. makes	D. takes
34.	A. look at	B. look after	C. look for	D. look up
35.	A. bread	B. breadwinning	C. breadstick	D. breadwinner
VI.	Read the passage, and choose the correct answer A, B, C or D for each question.
Home Life in Japan
	It is common in Japan for three generations to live under the same roof. This is becoming less common today, but still exists, certainly in the countryside.
	Husbands in Japan give their salaries to their wives. They are returned a sum of money as pocket money, otherwise how to use the rest is the wife's decision. The finances of a family are the responsibility of the women who handle most of the household expenses. There are exceptions in instances when something of value, like a car, is being bought. This is changing with more women going to work.
	Japanese fathers in contemporary urban households spend so much time at work, and the company demands on them are so great. It means that they often really have very little time or energy to spend with their children. The responsibility for raising children, overseeing the education fall onto the mothers. Mothers play an enormous role in the lives of their children and the bond is very strong. Babysitters are rarely used and mothers often sleep with their babies. A mother will also spend hours with children doing school work. Few Japanese men help with housework. There is more pressure today for this to change.
	Most families in Japan today are nuclear families, such as those in the United States. That is to say that a married couple lives together with their children, perhaps with one grandparent. But for the most part, the Japanese family today looks much like the American family.
36.	In Japan, extended families are still popular 	.
	A. in big cities	B. in the countryside	C. everywhere	D. in urban areas
37.	A Japanese woman is responsible for all of these EXCEPT 	.
	A. raising children	B. handle household expenses
	C. making decisions on very valuable things	D. taking care of children's school work
38.	Japanese fathers in contemporary urban households 	.
	A. are under great pressure of work	B. are responsible for most household chores
	C. handle most of the household expenses	D. stay at home to work as babysitters
39.	Nowadays there is a pressure that men should 	.
	A. earn more money	B. help their wives with housework
	C. leave important decisions to their wives	D. work harder at work
40.	Most families in Japan nowadays may be 	.
	A. extended families	B. three-generation families
	C. the same as the traditional ones	D. similar to those in the Western
TEST 2 
I.	Choose the word which has a different stress pattern from the others.
1.	A. therapy	B. respiratory	C. medical	D. vessel
2.	A. almond	B. sesame	C. avocado	D. massage
3.	A. allergy	B. imagine	C. sugar	D. oxygen
II.	Choose the word which has a different stress pattern from the other.
4.	A. alternative	B. acupuncture	C. original	D. respiratory
5.	A. stimulate	B. skeleton	C. pyramid	D. digestive
III.	Choose the best answer A, B, C or D to complete the sentences.
6.	Fish, poultry, beans, or nuts 	 half of the dinner plate. 
	A. make	B. make out	C. make up	D. make of
7.	Ailments are caused by a(n) 	 of yin and yang.
	A. imbalance	B. unequal	C. abnormal	D. ineffectiveness
8.	In some remote parts of the world, herbs may be the only treatment 	 to the majority of people.
	A. leading	B. available	C. easy	D. access
9.	There are foods that can help you fall asleep or keep you 	.
	A. wake	B. waking	C. waking up	D. awake
10.	Liver is a large organ in the body which 	 the blood.
	A. cleans	B. cleans up	C. is cleaning	D. is cleaning up
11.	The Healthy Eating Pyramid reminds us to 	 our intake of salt and added sugar. 
	A. limit	B. stop	C. avoid	D. remove
12.	When acupuncture 	 correctly, it is very safe for patients.
	A. performs	B. will be performed	C. is performed	D. will have performed
13.	You should see a doctor if your nosebleed 	 by an injury, such as a punch.
	A. caused	B. were causing	C. was caused	D. will be caused
14.	If your retina records the image well, your brain 	 the image, and you 	 image clearly.
	A. will interpret - will see	B. interpret - see	
	C. is going to interpret - are going to see	D. is interpreting - are seeing
15.	At your eye exam, you 	 to read from an eye chart.
	A. will probably ask	B. are going to ask	
	C. will probably be asked	D. are asking
IV.	Rewrite the following sentences using the passive.
16.	The acupuncturist will ask the patient to lie down.
17.	The acupuncturist should use single-use disposable sterile needles.
18.	As the acupuncturist inserts each needle, the patient will feel them, but initially without pain.
19.	Sometimes people heat the needles or stimulate them with electricity after insertion.
20.	People keep the needles in acupoints for about twenty minutes.
V.	Choose the word or phrase among A, B, C or D that best fits the blank space in the following passage.
Benefits of spiritual healing 
	Spiritual healing can be very effectively used to solve numerous physical, mental and emotional problems. Spiritual healing can help eliminate physical and mental problems and give great health benefits.
	Spiritual healing is often confused with (21)	 healing. Although many techniques in spiritual healing encourage believing in a greater power and positive universal forces, it does not force any particular faith or religious belief. Spiritual curing has been around in all (22)	.
	The most obvious health benefits of spiritual healing can be seen on the (23)	 level. People with high blood pressure, cholesterol, body pains, migraines, back aches etc. have cured their (24)	 by means of spiritual healing techniques. One can see considerable (25)	 of blood pressure and cholesterol, better sleep patterns, less worrying, and healing of aches and pains of the body after using spiritual healing techniques.
	The mind and body are interconnected, involved elements and the well-being of one can have a great (26)	 on the other. Therefore, a healthy mind is resided in a healthy body and a healthy body is a (27)	 of a healthy mind.
	Once a person eliminates the worrying habit and incorporates positive thinking, the mind can do (28)	. It can help you imagine and create wonderful things, (29)	 goals and achieve them. This process of focusing (30)	 the positive to improve the mental health can boost your creativity.
21.	A. faith	B. faithful	C. belief	D. believable
22.	A. land	B. heritage	C. cultures	D. nation
23.	A. mental	B. physical	C. exercising	D. medicine
24.	A. feelings	B. viruses	C. therapies	D. ailments
25.	A. stopping	B. lowering	C. cutting	D. controlling
26.	A. result	B. affect	C. impression	D. effect
27.	A. cause	B. result	C. effect	D. action
28.	A. wonders	B. wonderful	C. awesome	D. progress
29.	A. score	B. make	C. set	D. reach
30.	A. on	B. in	C. at	D. Ø
VI.	Read the passage, and choose the correct answer A, B, C or D for each question.
Teenagers and Sleep
	Sleep is food for the brain. During sleep, important body functions and brain activity occur. Skipping sleep can be harmful, even deadly, particularly if you are behind the wheel. You can look bad, you may feel moody, and you perform poorly. Sleepiness can make it hard to get along with your family and friends and hurt your scores on school exams. Sleepiness can lead to aggressive or inappropriate behavior such as yelling at your friends or being impatient with your teachers or family members.
	Sleep is vital to your well-being, as important as the air you breathe, the water you drink and the food you eat. It can even help you to eat better and manage the stress of being a teenager.
	Teenagers need about 8 to 10 hours of sleep each night to function best. Most teens do not get enough sleep: one study found that only 15% reported sleeping 8 hours and a half on school nights. Not getting enough sleep or having sleep difficulties can limit your ability to learn, listen, concentrate and solve problems.
	Teens tend to have irregular sleep patterns across the week - they typically stay up late and sleep in late on the weekends, which can affect their biological clocks and hurt the quality of their sleep.
	Consuming caffeine close to bedtime can hurt your sleep, so avoid coffee, tea, soda and chocolate late in the day, and you can get to sleep at night. Nicotine and alcohol will also interfere with your sleep.
	A consistent sleep schedule will help you feel less tired since it allows your body to get in synchronization with its natural patterns. You will find that it's easier to fall asleep at bedtime with this type of routine.
31.	Sleepiness is harmful because 	.
	A. our scores at school may be low and the relationship with others becomes worse
	B. important body functions and brain activity occur during sleep
	C. you can look bad behind the wheel
	D. can lead to appropriate behaviors or being patient with your teachers or family members
32.	In order to function best, teenagers need 	.
	A. at least 10 hours of sleep each night	B. over about 10 hours of sleep night
	C. about 8 to 10 hours of sleep each night	D. 8 hours and a half on school nights
33.	All of the following are bad sleeping habits EXCEPT 	.
	A. having coffee or tea close to bedtime	B. staying up very late on the weekends
	C. having nicotine and alcohol	D. having the same sleep pattern
34.	A consistent sleep schedule is very important because 	. 
	A. it will helps you feel less tired during daytime
	B. you have less difficulty in falling asleep at bedtime
	C. nicotine and alcohol will not interfere with your sleep
	D. it is easier for you to fall asleep at any time
35.	The word "consistent" in the last paragraph is closest in meaning to 	.
	A. not changing	B. agreeing	C. similar	D. changeable
TEST 3
I.	Find the word which has a different sound in the part underlined.
1.	A. pop	B. idol	C. contest	D. top
2.	A. compare	B. album	C. talent	D. fan
3.	A. franchise	B. release	C. contest	D. post
II.	Choose the word which has a different stress pattern from the others.
4.	A. contest	B. talent	C. album	D. debate
5.	A. concert	B. award	C. release	D. compose
III.	Choose the best answer A, B, C or D to complete the sentences.
6.	The tragic end of "Swan Lake" shows that magic is 	 over love.
	A. power	B. powerful	C. powerless	D. powerfully
7.	Van Cao's Tien Quan Ca was made into the national 	 of the Socialist Republic of Viet Nam. 
	A. song	B. music	C. melody	D. anthem
8.	Chopin is one of the greatest Romantic piano composers whose works are often technically 	 .
	A. demand	B. demanding	C. undemanding	D. demanded
9.	Fantasia Barrino, the winner of American Idol's season 3 in 2004, released her 	 Free Yourself which earned three Grammy Award nominations.
	A. debut album	B. live performance	C. local version	D. live programme
10.	That teen idol was 	 to win second place in the Idol Contest in 2010.
	A. talent	B. being talented	C. talented	D. talentless
11.	Her teachers and schoolmates noticed her 	 a deep love of music during her childhood.
	A. develop	B. to develop	C. developing	D. developed
12.	A playoff is an extra game in a competition played between two teams or competitors who both have the same scores 	 the winners.
	A. decide	B. to decide	C. deciding	D. to deciding
13.	Hat Boi involves singing with distinctive vocal production techniques, symbolic gestures, 	 it is extremely difficult to perform 	 requires special training in the art form.
	A. and - but	B. so - but	C. so - and	D. but - and
14.	Scenes in Cai Luong are elaborate 	 they are changed frequently throughout the play.
	A. and	B. or	C. but	D. so
15.	Many "American Idol" contestants went on to become huge stars, 	 the popularity of "American Idol" began to decrease.
	A. and	B. but	C. so	D. or
III.	Fill in each blank in the passage with the correct word/phrase from the box.
	folk songs	musical theater	folk style	genres	characters
	music band	peasants	techniques	costumes	royal court
Vietnamese Traditional Theater
	Despite being strongly influenced by Chinese opera and other art forms, Vietnamese theater with three special (16)	: Tuong singing, Cheo singing and Cai Luong singing, which have been modified to be suitable for Vietnamese people.
	Tuong singing is a form of art imported from China around the 13th century. Tuong singing (also known as Boi singing) was originally used as entertainment for the (17)	 and was later performed by traveling troupes for commoners and (18)	. One typical feature of Tuong singing is the use of well-known stock characters who wear elaborate make-up and (19)	 to represent the (20)	 that they are performing.
	Cheo singing is a satirical (21)	 dating back to the 12th century under the Ly Dynasty. Traditionally, Vietnamese peasants in northern Viet Nam usually danced when singing folk songs and another (22)	 plays fiddle, flute and drum.
	Cai Luong (Renovated Opera) appeared in the southern part of Viet Nam in the 1920s and flourished as an entertaining theatre of the middle class under the French colonial period. The special imprints of this (23)	 on audience are the harmonious combination of southern Vietnamese (24)	, classical music, Tuong singing and modern drama as well as the use of extensive vibrato (25)	.
Note: genre (n) = a style, especially in the arts, that involves a particular set of characteristics
V.	Choose the word or phrase among A, B, C or D that best fits the blank space in the following passage.
Quan Ho - Typical Northern Vietnamese music
	It is hard to talk about the origin of Quan Ho singing, but it was first (26)	 in the 13th century. Quan Ho is a singing battle where "lien chi" (female singers) sing "cau ra" (a challenge phrase), then "lien anh" (male singers) will (27)	 by selecting and singing "cau doi" (a matching phrase). The order will be (28)	 in the next time.
 (29)	 Quan Ho was unaccompanied by instruments but only (30)	 of singers to compose rhythm. Quan Ho performances today are accompanied by some (31)	 instruments, such as monochord or bamboo flute, etc.
	Themes of most of the songs are love songs with romantic and sentimental lyrics which have been (32)	 by (33)	.
	Quan Ho songs possess the spirit of local people and help tighten (34)	 among villages. Quan Ho singing is an old Vietnamese type of art that needs (35)	.
26.	A. recorded	B. broadcast	C. performed	D. written
27.	A. answer	B. say	C. respond	D. tell
28.	A. changed	B. turned	C. varied	D. reserved
29.	A. Tradition	B. Traditional	C. Traditionally	D. Tradition of
30.	A. voices	B. songs	C. music	D. volumes
31.	A. music	B. musical	C. musically	D. musician
32.	A. passed	B. passed by	C. passed on	D. passed away
33.	A. mouth	B. mouth of word	C. word of mouth	D. words of mouth
34.	A. distances	B. space	C. roads	D. bonds
35.	A. preserve	B. to preserve	C. being preserved	D. preserving
VI.	Read the passage, and choose the correct answer A, B, c or D for each question.
	Ca Tru was also called "Hat A Dao" or "Hat Noi". Originally, attractive young female singers entertained men in a relaxed environment, sometimes serving drinks and snacks. Men might have visited a "Hat A Dao" inn with friends to celebrate a successful business deal or the birth of a son.
	Ca Tru flourished in the 15th century in northern Vietnam when it was popular with the royal palace and a favourite hobby of aristocrats and scholars. Later, it was performed in communal houses, inns, and private homes, and gained its high popularity. These performances were mostly for men. When men entered a Ca Tru inn, they purchased bamboo tally cards. In Chinese Vietnamese, "tru" means "card", and "ca" means "song" in Vietnamese, so the name Ca Tru means tally card songs. The tallies were given to the singers in appreciation for the performance. After the performance each singer received payment in proportion to the number of cards received.
	Ca Tru requires at least three performers. The singer is always a woman and plays the "phach", an instrument made of wood or bamboo that is beaten with two wooden sticks. A musician accompanies the singer on the "dan day", a long-necked lute with three silk strings and 10 frets. There is also a drummer or "trong chau". The drummer shows his approval of the singer or the songs depending on how he hits the drum. If he likes a song, he might hit the side of the drum twice. The "dan day" player must follow the rhythm of the "phach". His instrument, the "dan day", is only used in Ca Tru and is now made almost exclusively for sale to tourists.
36.	Ca Tru was first performed 	.
	A. to serve drinks and snacks to men
	B. to entertain male guests on special occasions
	C. in a relaxed environment without any drink
	D. when "Hat A Dao" and "Hat Noi" disappeared
37.	Ca Tru developed and became very popular in the society when	 	.
	A. it was only performed in royal courts and palaces
	B. it took the name Ca Tru from Chinese and became a favourite hobby of aristocrats and scholars
	C. its performances were mostly for men
	D. it was performed in communal houses, inns, and private homes
38.	The "tally card" in the meaning of Ca Tru helped 	.
	A. the singer to be paid after the performance
	B. the men to purchase bamboo tally cards
	C. the singers to show appreciation for the performance
	D. each singer to receive the number of cards given
39.	The singer plays the essential role because 	.
	A. she accompanies the other musicians with the "phach", an instrument made of wood or bamboo
	B. she makes the drummer shows his approval of the singer or the songs by hitting the side of the drum twice
	C. the drummer only shows his approval or disapproval to the song and the "dan day" player must follow the rhythm of the drummer
	D.	the "dan day" player must follow the rhythm of the "phach", and the drummer only shows his approval or disapproval of the singer or the songs
40.	All of the following are true about Ca Tru EXCEPT that 	.
	A. it flourished in the 15th century in northern Vietnam
	B. the "dan day" is now only used as a souvenir for tourists
	C. the meaning of Ca Tru partly originated from Chinese Vietnamese
	D. Ca Tru requires at least three performers

Tài liệu đính kèm:
3_de_kiem_tra_1_tiet_mon_tieng_anh_10.docx